Veteran from Saudi Arabia Speaks Highly of Chinese Medicine After His First Treatment
---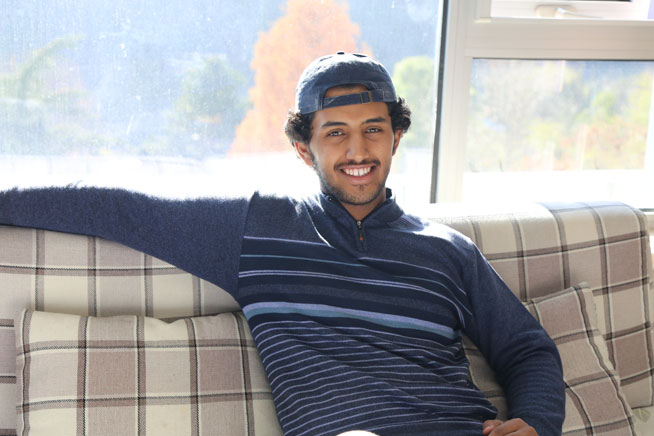 I appreciate Chinese Medicine Treatment very much. All the staffs here in Shijiazhuang Hetaiheng Hospital are very friendly, considerate and also they solved all my puzzles about Chinese medicine patiently. Chinese medicine is so amazing!
My name is Faisal and I am 36 years old. I am an Veteran and come from Saudi Arabia. Because of my current job, I can not have diet and rest regularly. Years of imbalanced diet causes me malnutrition and anemia. I was diagnosed with kidney problem six years ago.
I need to draw blood for blood test almost everyday in local hospital, but in China hospital, drawing blood once or twice is enough, not frequent at all. Also, I have anemia. There are many dietotherapy in Chinese medicine, which is very helpful for my condition. It is so great!
Six years ago, I realize some problems about my health. First of all, I notice there are lots of bubbles in my urine and I then I become tired easily. I even vomit sometimes. I though it is due to my gastrointestinal problems, so I did not pay much attention.I keep traveling all over the world and being busy with my work.
Once I fainted when I was busy working in Oman. My colleague took me to local hospital and it was then that I realize I have serious kidney problem. After going back to my country, I have to hospitalized regularly because of health problem.
In Saudi Arabic, I received treatment from different hospitals, and my condition ups and downs at that time. Once when I was browsing websites, I noticed Shijiazhuang Hetaiheng Hospital in Facebook. That is the first time I get to know Chinese medicine. My serum creatinine level was as hgh as 806 at that time. Doctor from this hospital told me Chinese medicine has few side effects and my illness progression can be controlled well with Chinese therapies. I was not so familiar with Chinese medicine culture, so I did not believe it at all.
Through a friend's introduction, I met a patient who had been treated in this hospital, he gave the hospital a great compliment. Everything here is so different, especially its treatment options, totally different from western medicine. He was very supportive of my coming to China for treatment. So I contacted Shijiazhuang Hetaiheng Hospital.
I came to Shijiazhuang Hetaiheng Hospital on May 10th, 2017. After a series of tests, expert team made the treatment plan for me. Doctors here told me that they need to help me eliminate the toxins and wastes in my blood and cells and then use Chinese therapies to repair the damage to glomeruli and improve the kidneys' overall condition. I had never heard of such treatment options, so different, which made me have more confidence in my treatment.
After two weeks, miracles really happened. All of the discomforts disappeared, my creatinine level reduced to 625mol/L, proteinuria and occult blood totally disappeared, blood pressure level became normal. What is more, Chinese therapies here had not caused any side effects, which made me so happy. However, good though the treatment effect was, it did not mean my condition was totally cured, my doctor said. I lost the best time to cure the condition, after leaving the hospital, I also should continue to use the treatment for a period of time to consolidate the curative effect.
I was very satisfied with my treatment effect, though there was a little regret. If I could come to China for this treatment before creatinine level increased, I would be surely cured. This trip to China made me understand the importance of health more, and do not delay your best treatment time because of work or any other factors.